Join us for a delicious Lunch every Shabbat afternoon at 12:15.
If you wish to sponsor a lunch in honor of a birthday, anniversary, yahrtzeit,
or "just because":
1. Go to our Donate page and select the amount (minimum for Shabbos Kiddush is $100).

2.Then click In Memory/Honor

Example: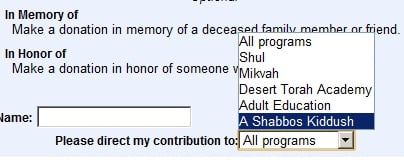 and select 'A Shabbos Kiddush' in the dropdown menu!
3. Fill out the rest of the form and, DONE!